About D2Fishing Products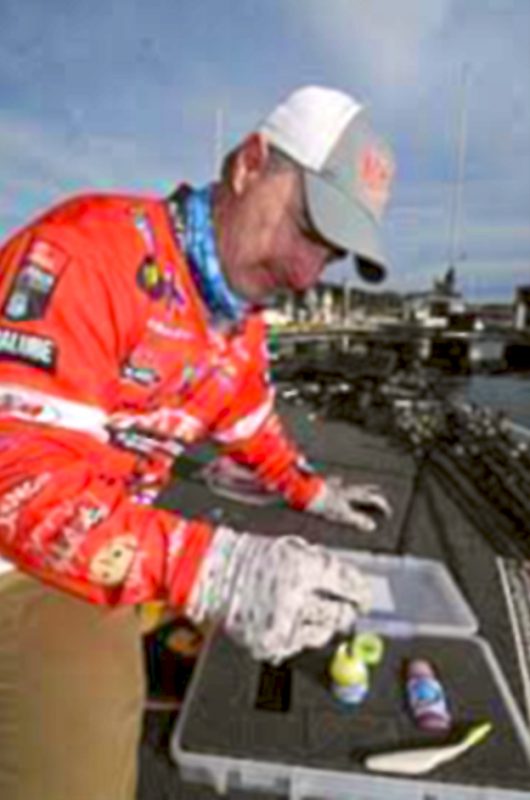 DyeSafe®, is an innovative new product for bass fisherman who use worm/soft plastic dyes and scents. Our DyeSafe® product is Patent Pending. It is unique in the fact that it protects your boat, fishing gear and hands from potent dyes. Every fisherman knows that leaning over the boat waiting for the dipped worm tail to dry is a major pain. Fishermen have the best fishing rigs today and do not want to stain their carpet or fiberglass. NO MORE! Not with DyeSafe onboard. Our product is endorsed by Bassmaster Elite Series angler Mark Menendez. Our product comes with two colors of our exclusive Dyeing2Fish soft plastic dye (chartreuse and orange) with garlic scent. DyeSafe®, has room for a third bottle or dye pen that can be purchased separately. NO MORE LEAKS, RUNS, OR DRIPS
Dyeing2Fish®, colorant uses our industry exclusive process that includes our trade secret scent and color process to catch more fish when weather and water conditions change. Colors include chartreuse, orange, red, and blue. Scents are available with each of the colors or by themselves (clear). Scents include garlic bread, sweet licorice, boiled crawdad, shadtastic and grape jelly. Unlike scents that just coat your soft plastic, ours impregnates the plastic eliminating the need to reapply many times while fishing.
Dyeing2Fish is made in the USA with unique trade secret protected ingredients.
You can purchase DyeSafe® and Dyeing2Fish® colorant through our website, your local retailer and soon to be major internet retailers.
Our products are made in the USA for America's Bass Fisherman.
Mark Menendez and our team are DYEING2FISH, so should you!